Ultimaker Enterprise Software Tools

b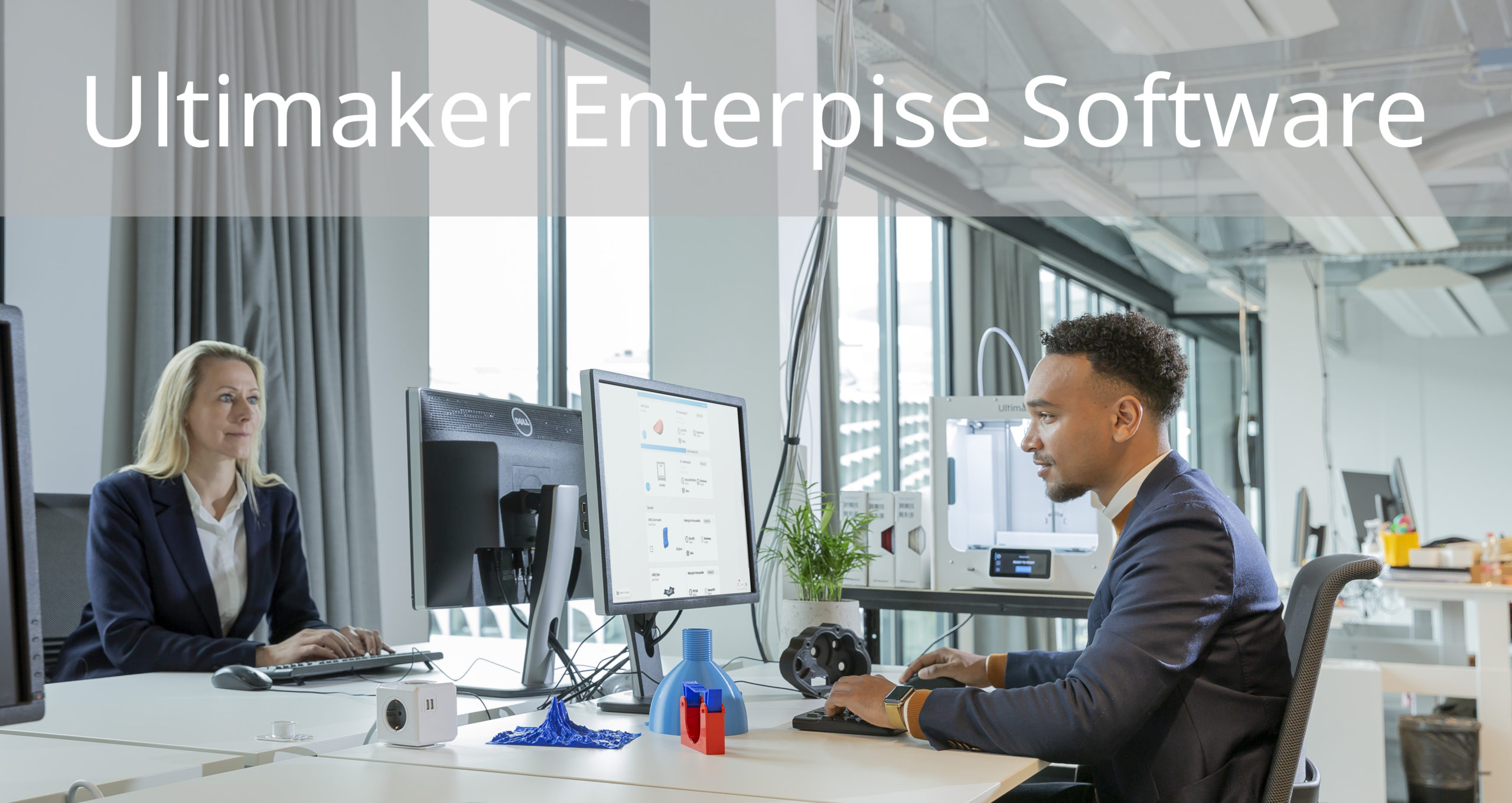 3D printing software that's built for business

Scale the benefits of 3D printing across your organization with a software subscription that empowers designers and engineers, but that's dedicated to enterprise stability and control.
Ultimaker's Enterprise Software subscription plan enables organizations to scale the benefits of 3D printing across their business, with software and services that empower their users, and is dedicated to stability, control, security, and support that enterprises require. Ultimaker Enterprise Software includes these key components: Cura Enterprise, Digital Factory, Marketplace, PLUS  Ultimaker 3D Printing Academy, and Ultimaker Knowledgebase and Support.
Ultimaker Essentials is included FREE with every new Ultimaker 3D Printer! For access to even more features, support and 3D Printing Academy e-learning, try Ultimaker Professional or Ultimaker Excellence software subscriptions! See "Compare the Details" below for what's included in each plan. 
Already have Ultimaker 3D Printers and want to add an Enterprise Software Plan? No problem, contact TEC for assistance!
Ultimaker Cura Enterprise
The simplest and most seamless print preparation experience, packaged for deployment.
Delivered in .msi format, it can be easily deployed throughout organizations using standard deployment tools
Stable software supported for a year, with (major) releases twice a year, after community testing
Continuous security improvements
Ultimaker Digital Factory
Manage your organization, user, and workflow remotely with powerful cloud-based tools
Manage an organization by controlling who has access to printers and cloud services
Manage multiple 3D printers
Remote 3D printing, wherever it is in the world
Queue print jobs
Optimize your workflow through detailed print analytics
Share 3D printers with your team to effectively pool resources and optimize production
Ultimaker Marketplace
Securely customize your workflow with third-party material profiles and verified plug-ins.
Download verified and secure plug-ins to customize your print preparation workflow
Access print profiles from Ultimaker's Material Alliance to unlock limitless applications
Synchronized account on any workstation
Controlled workflow with plug-in installations only possible through Ultimaker Marketplace
Most recent security assessment
Ultimaker 3D Printing Academy
The Ultimaker 3D Printing Academy is role-specific e-learning courses for Engineers, Operators and IT Admins to help you build a team of 3D printing experts to maximize the technology's value.
Features:
Product On-Boarding Courses to learn how to get started with Ultimaker 2+ Connect, S3, S5 and S5 Pro Bundle
E-Learning Courses aligned to IT Admin, Application Engineering, and Printer Operator; Associate, Professional and Expert levels with accessibility based on the subscription plan.
Ultimaker Knowledgebase and Support
Direct assistance by Ultimaker technicians for software support. For hardware support, please contact TEC, Inc.
Knowledgebase of more than 500 articles
Direct Ticketing System submitted to Ultimaker, get a response within 24 hours or quicker depending on your subscription plan
Peer to Peer Support via the Ultimaker Community (40,000+)