Roland DE-3 Engraving Machine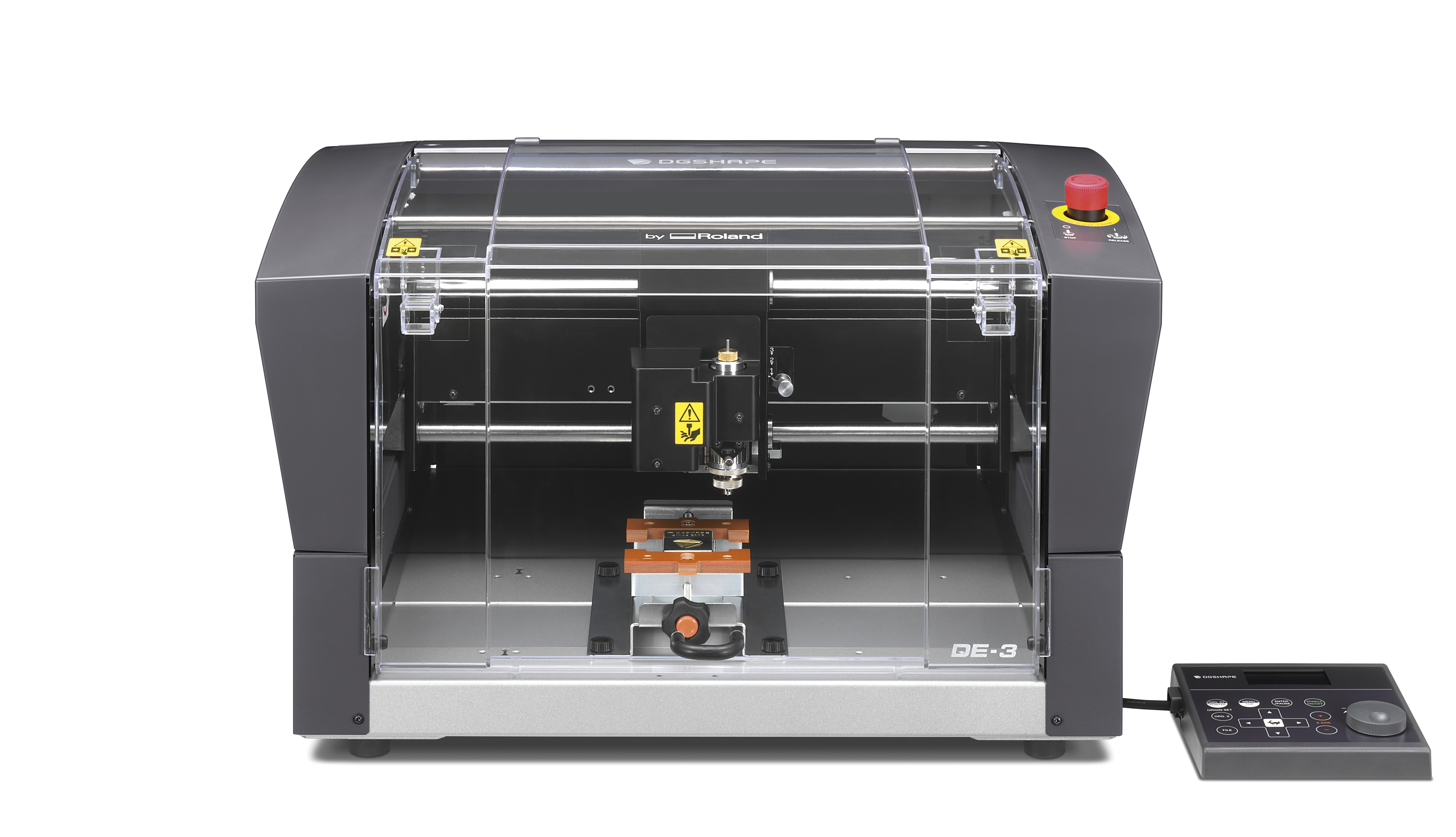 A complete engraving solution!
For over 30-years, Roland has lead innovation in rotary engraving technology and continues to break new ground with the DE-3 DGSHAPE desktop rotary engraver. Featuring laser-pointing technology, ethernet connectivity, automatic depth regulation and other intelligent enhancements, the DE3 is one of the smartest, most intuitive rotary engravers on the market.
Intelligent and Intuitive Engraving for Today's User
• Engrave onto a huge range of giftware, signage, trophies, tools and industrial products
• Laser pointer for quick set-up and easy production
• Easily-applied nose cones for non-scratch precision
• Ethernet connection with LAN network connectivity
• Includes new Dr. Engrave Plus software
Discover More Applications with DE-3 Engraving
Features
Effortlessly scribe and engrave onto a huge range of giftware, signage, trophies, tools and industrial products. Personalize brass, aluminum, copper, plastic engraving blanks, wooden items and more, with the speed, precision and ease of the powerfully compact DE-3.
Laser Pointer
A laser pointer accurately defines the origin point and displays an engraving path preview on the media— set the engraving position at the touch-of-a-button for accurate engraving and personalization every time.
Precision Engraving
Easily-applied nose cones can be added to the spindle unit to avoid scratches to delicate materials and deliver consistently precise results.
Fast and Easy Production
Powered by a 20,000 rpm DC brushless motor, the DE-3 utilizes advanced surface detection and other automatic features to make set-up and engraving a quick and simple process.
Ethernet Connection
Machine operation can be managed remotely on the DE-3— offering LAN network connectivity for multiple machine engraving.
Handy Panel Control
Without the need for computer setup, you can quickly select machine options such as spindle speed and one-touch machine cleaning. Engraving job data can be sent from your computer and stored in the controller after the PC is disconnected.
New Software and Open Architecture
The DE-3 desktop rotary engraver is open source technology that works out-of-the-box with all popular engraving software, industry standard tools, and materials. Also included with purchase of the DE-3 is Dr. Engrave Plus software that offers new user advantages.
Now supports AI files and standard graphic/vector data
Levelling and drilling functions enable standard text engraving as well as surface levelling and hole drilling
Features automatic layout tool for importing Excel and CSV files for quick engraving of nametags, product serial numbers, and other variable data projects
TEC is your Roland DGA Academic Representative for New England!
Pricing
| | | |
| --- | --- | --- |
|  Roland DE-3 Automatic Engraving Machine |   | $6,495 |
Please call 1-800-3388-2238 or email sales@TECedu.com for a customized quotation!