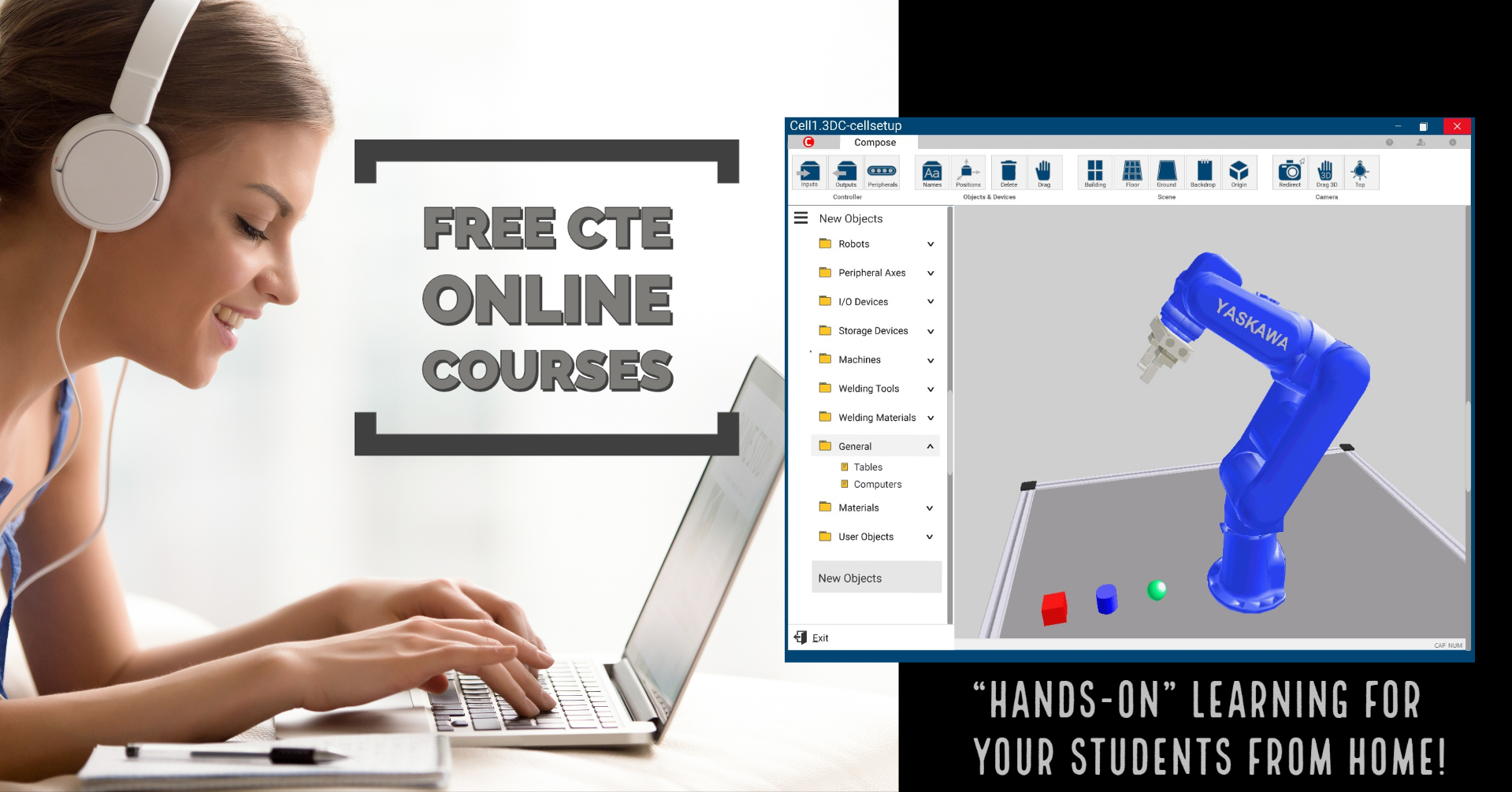 FREE Access to Select Intelitek LearnMate Courses Until 6/15/2020!
With most schools in the U.S. closed, how can you take your CTE class to remote students?
Intelitek's LearnMate® e-learning platform provides revolutionary tools for transforming classrooms into engaging and proactive learning environments. The LearnMate learning management system (LMS) automates classroom administration and enables real-time assessment of student progress. With over 2,500 hours of content, LearnMate delivers concepts through interactive curriculum, relevant activities and multiple instructional strategies.
► FREE Courses:
Call or email sales@TECedu.com ASAP to get your school's CTE e-Learning set up!
► Plus, Save on These Courses!
Includes subscription to online virtual training for the below courses until the end of this school year (6/15/2020). Intelitek will offer each of these courses for $500 for 150 students – or – ALL the below courses for only $2,000 until the end of the school year!
77-3109-0000           Intro to Lean Manufacturing
77-LOTO-0000         Lock Out Tag Out 
77-BA01A-0001       Math for Technicians I
77-BA01B-0001       Math for Technicians II
77-BA03-0001          Lubrication for Technicians
77-BA04-0001          Mechanical Fasteners
77-BA05-0001          Hand Tools
77-BA06-0001          Power Tools
77-8014-0001           Mechanical Measurement & Quality Control
77-3140-0001           CNC Milling w/BenchMill 6100 (Imperial version)
77-3141-0001           Virtual., CNC Turning w/BenchTurn 7100 (Imperial version)
77-3004-0001           Virtual, CAD with SpectraCAD Engraving (Imperial version
77-3005-0001           Virtual., SpectraCAM Milling (Imperial version)
77-3007-0001           Virtual., SpectraCAM Turning (Imperial version
77-5001-0000           LM7 Content, Fundamentals of Robotics for MotoMan MHJF
77-5002-0000           LM7 Content, Advanced Robotics for MotoMan MHJF
77-8071-0010           LM7 Content: Hydraulics 1
77-8070-0010           LM7 Content: Pneumatics 1
77-8210-0010           LM7 Content: PLC Tech 1 for Micrologix 1100
77-8220-0010           LM7 Content: PLC Tech 1 for Siemens S7-1200
► Get a Credit if Your School Purchases an Annual Subscription!
If your school decides to continue using the software for the next school year, all course purchases for short term under this offer will be credited to schools if applied to a new purchase of the curriculum for full term (annual) within 3 months (after short term license expires). This credit does not include Hosting costs.
Important Questions and Answers
Q: How can you implement online learning in an instant?
A: Many learning management platforms like the Intelitek LearnMate 7 are hosted cloud-based solutions. This means that student access is not limited to the physical classroom. Students, teachers and administrators can access the LMS from home as well. Unless some specific security has been added, all content from Intelitek LearnMate LMS is accessible from any computer with internet access.
Q: What programs are available for online learning?
A-1: Fully Virtual Training
The Intelitek Foundations of Manufacturing program is a set of 16 courses that are all virtual. Starting with safety, quality control, intro to manufacturing and delving into areas like tools, soft skills, and introductions to specific disciplines these courses are all comprehensive training for students entering the manufacturing, mechatronics and industrial maintenance fields.
A-2: Virtual Training with Simulation
Intelitek CTE programs are always accompanied by software where students learn the concepts of configuring and programming manufacturing equipment. To enable this in a safe and scalable classroom environment all the learning systems include real-time simulations. In these simulations, the student sees 3D graphic representation of the equipment they are learning about. This video will show you a good example of this.
Q: How do you replace hands on?
A: Many of the blended learning options Intelitek have offered include simulation software. The initial motivation was so every student can learn, program, and run exercises before they get to the hands-on equipment which may have been limited to only small groups of students. The by-product of this approach is that all our machining and robotics training programs can be implemented 100% virtually because the students can do all the exercises using the CNCmotion, RoboCell, PneuMotion, HydraMotion and PLCMotion applications integrated into our curriculum.
Q: What computer is required?
A: A Windows computer with
Dual Core 1.4GHz Processor or better
Windows 8 or 10 (32 or 64 bit)
4GB of RAM
Internet connectivity is required.
A simulation agent needs to be installed during setup to enable students to run the different software they need during the training.
Q: What training programs are you offering?
A: The list of available online courses includes:
• Foundations of Manufacturing (12 courses/16 hrs each)
• Fundamentals of Robotics
• Advanced Robotics Programming
• CNC Milling
• CNC Turning
• Fundamentals of Pneumatics
• Fundamentals of Hydraulics
• Fundamentals of PLC programming
• Computer Aided Manufacturing with spectraCAM Milling
• Computer Aided Drafting with spectraCAD Engraving
Note: Other courses may be available but are only partially virtual as they have more hands-on exercises requiring equipment – Tell us what you are looking for and we will investigate the virtual scope of the courseware.
Contact TEC, Inc. for aditional details and hosting costs.
Call or email sales@TECedu.com ASAP to get your school's CTE e-Learning set up!