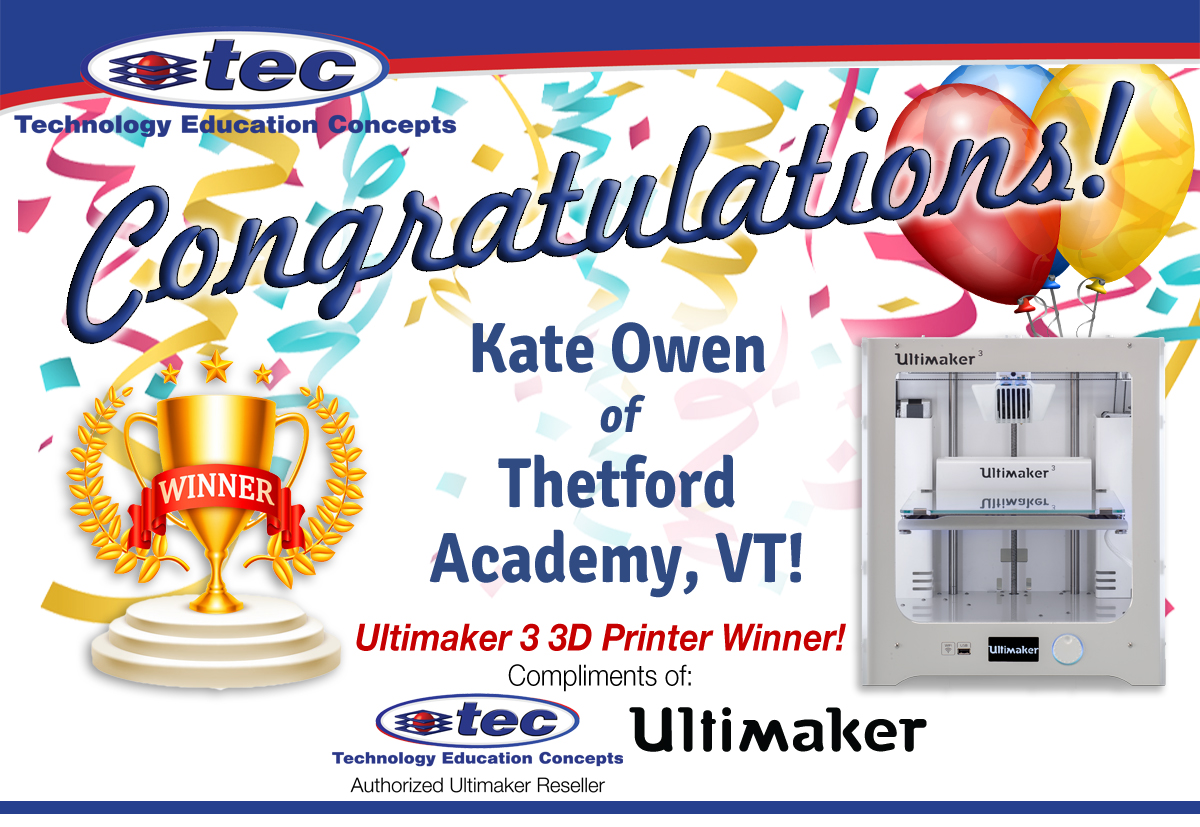 PRESS RELEASE: 2018 Fall Conference Giveaway
We are excited to announce that the winner of our Ultimaker Fall Conference Raffle is Kate Owen from Thetford Academy in Thetford, VT!  Kate entered the raffle at the VermontFest conference in November. We had over 700 entries in the raffle! Kate is delighted to be the winner and looking forward to using the Ultimaker in various programs at Thetford Academy. 
Mr. William Bugg, Principal of Thetford Academy, states,
"Thetford Academy is thrilled to have won the printer in the recent raffle, and we are excited to be able to put it to good use for the benefit of our students.  We have a small maker-space program already. The addition of the Ultimaker will help us expand our program and enable our students to quite literally make their concepts, their dreams, become reality."
Tech Ed Concepts, Inc. will share updates we receive from Thetford Academy as their students engage with their new Ultimaker in their STEM, Design Technology, and Engineering and Technology courses, and throughout the school! Congrats, Kate and Thetford Academy!
Ultimaker 3D Printer Grants and EDU Discounts Available!
We offer Ultimaker EDU discounts available until December 31st for Ultimaker 2+, Ultimaker 3 and Ultimaker S5 3D Printers! Contact us to request a quote!
Visit Ultimaker's website Grants and Funding Resources to learn more about grants and funding!
We greatly appreciate the support from Ultimaker North America for sponsoring the Ultimaker 3 3D Printer for the raffle, Thank You!