Direct-to-Garment Printer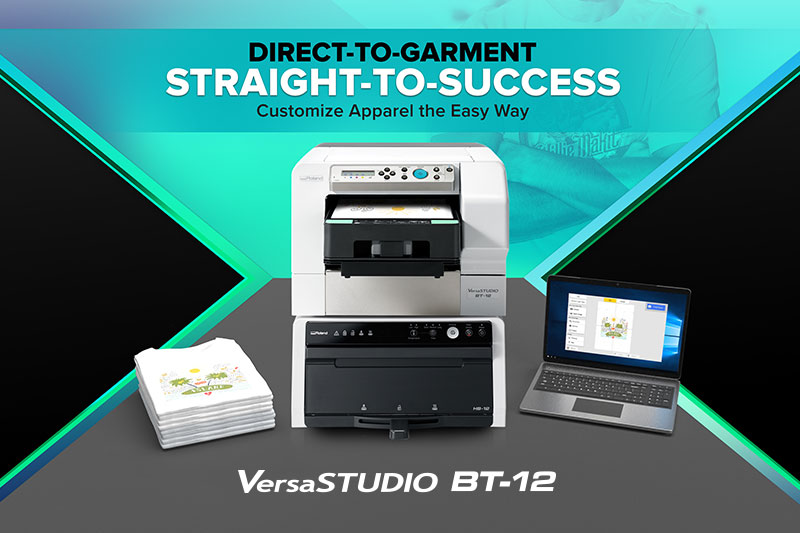 BT-12 Limited-Time Super Special Offer!
Hurry! Offer valid only until 9/30/2021


Save $2,000! Reg. Price $4,995,

now only $2,995!

B-12 Finisher Included!

FREE Full Set of Ink

Wow! This is a great deal for a limited-time, don't delay!

b
Easily Create Custom Products, No Experience Needed, and Priced Right!
Print directly onto cotton t-shirts, apparel, tote bags and other products in minutes from your desktop with the VersaStudio BT-12 direct-to-garment (DTG) printer! This affordable printer allows your students to get into the profitable world of custom apparel immediately, with a device that's as easy-to-use as an office printer and offers stunning results!
Out-of-the-box apparel customization with a compact, affordable and exceptionally easy machine
As easy-to-use as an office printer and offers stunning results
Put your photos and designs on cotton t-shirts, bags, pet accessories and so much more
Complete solution includes a finisher unit, cassette tray and cleaning accessories
Up to 1200 dpi x 1200 dpi print resolution for high-quality print results
Accepts "everyday" file formats, no special file conversion required! Output PNG, JPG, TIFF, PDF, and BMP formats and get printing!
Fully-enclosed, compact printer that works in standard wall sockets, no special electrical requirements
Comes with a Two-Year Trouble-Free Warranty and an option to extend for an additional three more years!
Is it just for apparel? No – get your creative on!
Once you become comfortable with your BT-12, you may ask, "So, what else can I do with a BT-12?" 
Try printing on other materials! You may have to experiment with the settings, but don't worry, if the material is too thick, the BT-12 simply won't print, so there are no issues with damaging the print heads. Check out these photos of some "experiments" done at Roland!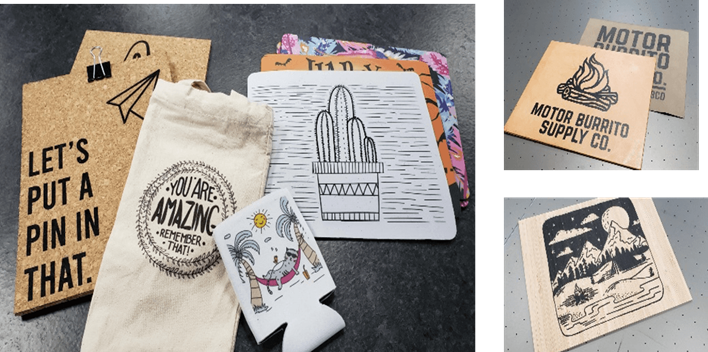 Now that you know the BT-12 can print on more than just T-shirts, don't be afraid to think outside the box. Go ahead and print on other items, and let us know how it goes, we'd love to share your creations! (email them marketing@TECedu.com)
►TEC is your Roland Academic Dealer for NH, ME, VT, RI, CT and MA, call or email with questions!
This unit is meant for everyday users, beginners even. It is incredibly simple to make your own garment!
Caleb Craft
BT-12 Specifications
Printing method: Direct-to-garment (DTG) / Piezo ink-jet method
Print heads:
2 print heads
2 channels per print head
192 nozzles per channel
Nozzle pitch: 150 dpi
Max. print swath: 1.27" (32 mm)
Printable Area: A4 Cassette (Standard) 11.5″ x 8″ (291 mm x 204 mm), A5 Cassette (Optional) 8″ x 5.6″ (204 mm x 142 mm)
Printing Resolution: 600 x 600 dpi, 1200 dpi x 1200 dpi
Garment Type:
Fabric: 50% – 100% cotton
Thickness: Maximum 0.157″ (4 mm)
Colors: White or Light
Ink Cartridges: TPG Textile Pigment Ink, 100 ml (CMY), 140 ml (K)
Connectivity: USB2.0 High Speed, 10BASE-T/100BASE-TX, IEEE 802.11 b/g/n
Exterior Dimensions:
Printer Installed: 15.7″ (W) x 27.5″ (D) x 11.5″ (H)
399 mm (W) x 698 mm (D) x 292.5 mm (H)
Finisher Installed: 15.7" (W) x 23.6" (D) x 8.7" (H)
(399 mm (W) × 599.4 mm (D) × 220.98 mm(H))
Weight: 55 lbs (25 kg)
Power requirements: (North America) AC100V to 120V, 50/60Hz, max. 90 Watts
Included Software: Roland Design Software