What does it mean to have materials "Engineered by
Ultimaker" and what are the differences between them??
Ultimaker has committed to rigorously testing and engineering their "Ultimaker" branded materials with their printers so that you will get great prints. Going the extra step, Ultimaker has also programmed material profiles for each of the Ultimaker materials within the Cura software so that optimal print settings are automatically achieved. Less fuss and better prints – happy 3D printing!
Download the Ultimaker Materials Datasheet (includes color options)  
---
PLA Material – Prints Fast and Durable
Ultimaker's PLA is really easy to print with, it's reliable, gives good surface quality and it's made from renewable sources, so it's biodegradable too. It also works perfectly with Cura material profiles.
Reasons to choose Ultimaker PLA
If you want to easily achieve high resolution prints
Printing concept models and prototypes when aesthetics and fine details are key
When you're casting metal parts through lost PLA casting
It's perfect for printing in education or in the office, thanks to low ultrafine particle emissions
A heated bed isn't necessary, it works with glue and blue tape as well
PLA isn't suitable for medium temperature applications (50?C +) or long term outdoor usage. ABS is a better material for high temperature applications and CPE for outdoor usage.
b
ABS Material – Tough and Durable
Ultimaker's newly developed ABS filament is one of the easiest to use on the market. When combined with the Ultimaker 2+ and Cura's material profiles, even tricky mechanical parts are realized with ease.
Reasons to choose Ultimaker ABS
Excellent interlayer adhesion
Good bed adhesion
Enhanced strength for functional prototypes and manufacturing end-use parts
Enhanced mechanical properties over regular ABS
Not suitable for applications where the printed part is exposed to temperatures up to 85ºC.
 b
CPE/CPE+ Material – Tough, Chemical Resistant, Low Print Odor
CPE materials are chemical resistant, tough, and dimensionally stable. CPE+ handles temperatures up to 100 ºC.
Reasons to choose Ultimaker CPE Family
Excellent chemical resistance
Excellent toughness and dimensional stability
Good interlayer adhesion, especially when using the front door add-on
Low levels of ultrafine particles (UFPs) and volatile organic compounds (VOCs)
Ideal for short run manufacturing and functional prototypes
Transparent filament option available
Differences between Ultimaker CPE and CPE+
CPE is available in a wide range of colors to choose from, including grayscale for more professional looking models.
CPE's tensile and flexural strength are higher, whilst CPE+ is formulated to be up to 10 times tougher.
CPE+ features a temperature resistance of up to 100 ºC when compared to CPE, which is only resistant up to 70 º
CPE has a better build plate adhesion than CPE+, but you won't notice the difference when using the stickers supplied in our Advanced 3D Printing Kit.
b
PC (Polycarbonate) Material – Strong, Tough and Temperature Resistant
With Ultimaker PC (polycarbonate) filament, you can print strong and tough parts that retain dimensional stability when subjected to temperatures as high as 110 oC. Our PC is a perfect filament for printing molds, tools, functional prototypes and parts for short-run manufacturing.
Reasons to choose Ultimaker PC
High toughness, especially for the non-transparent filament options
Resists temperatures and retains form up to 110 oC
Flame retardant characteristics
Dimensionally stable
Strong interlayer bonding capabilities, especially when using the front door add-on
Good bed adhesion, especially when using the stickers supplied in the Advanced 3D Printing Kit
Allows printing of translucent parts for lighting applications with a transparent filament option
Engineered to be printed at moderate temperatures compared to other PC filaments
Minimized warping provides a seamless 3D printing experience
b
Nylon Material – Abrasion-Resistant and Durable
Used by many manufacturers worldwide, Nylon (polyamide) is well-known for its impressive durability, high strength-to-weight ratio, flexibility, low friction, and corrosion resistance. Its ability to withstand significant mechanical stress makes it a great choice for 3D printing tools, functional prototypes, and end-use parts.
Reasons to choose Ultimaker Nylon
Industrial-grade impact and abrasion resistance
Durable
High strength-to-weight ratio
Low friction coefficient
Good corrosion resistance to alkalis and organic chemicals
Reduced humidity absorption when compared to other Nylon filaments
Seamless 3D printing experience
b
TPU 95A Material – Wear and Tear Resistant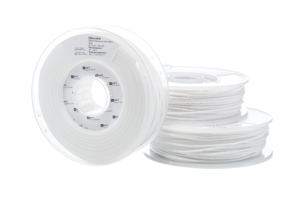 Highly versatile for industrial applications, TPU 95A (thermoplastic polyurethane) filament is the go-to choice for a wide array of manufacturing projects that demand the qualities of both rubber and plastic. Designed for 3D printing consistency, TPU 95A is a semi-flexible and chemical resistant filament with strong layer bonding. In addition, it is easier and faster to print than other TPU filaments.
Reasons to choose Ultimaker TPU 95A
Exceptional wear and tear resistance
High impact strength
Shore-A hardness of 95
Up to 580% elongation at break
Good corrosion resistance to many common industrial oils and chemicals
Engineered for a fast and seamless 3D printing experience
b
Ultimaker PVA – Support Material for Ultimaker 3 Printers
Ultimaker PVA (Polyvinyl Alcohol) is a water soluble support material for multi-extrusion 3D printing.  With a good thermal stability, Ultimaker PVA is ideal for printing complex models that require supports for large overhangs, deep internal cavities, and intricate geometries.  Designed for a seamless 3D printing experience, Ultimaker PVA provides good adhesion to both PLA and Nylon.
Reasons to choose Ultimaker PVA
Good thermal stability resulting in better degradation resistance compared to other PVA filaments
Less moisture sensitive than other PVA filaments
Great adhesion to both PLA and Nylon
Safe dissolution in tap water (no harmful chemicals required)
Biodegradable with no hazardous by-products
Ultimaker PP (Polypropylene) – Fatigue and Chemical Resistant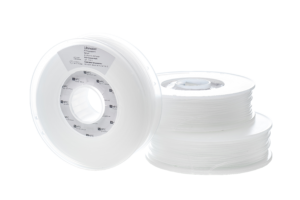 Ultimaker PP is durable.  It has high toughness, exceptional fatigue resistance, and low friction.  It also has good chemical, temperature, and electrical resistance.  PP is one of the most widely used plastics on the planet!  From electrical components to living hinges, PP is the go-to material for prototyping and end-use products.
Reasons to choose Ultimaker PP
Durable with high toughness and fatigue resistance (PP retains its shape after torsion, bending, and/or flexing)
Low friction and smooth surfaces
Good heat resistance (up to 105°C)
Semi-flexible
Chemical resistance to a wide range of bases and acids, including industrial cleaning agents
High electrical resistance makes it a good electrical insulator
Very resistant to moisture
Translucent
Low density resulting in lightweight parts (high strength-to-weight ratio)
Excellent layer bonding
Adequate bed adhesion and low warping when using Advanced 3D Printing Kit adhesion sheets
Recyclable, for low environmental impact
New!

Breakaway Material – Fast to remove while ensuring a quality finish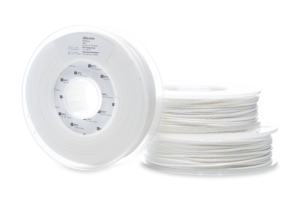 Ultimaker Breakaway is a support material for multi-extrusion 3D printing. Breakaway support is quick to remove and does not need further post-processing for a smooth finish on your 3D print. Designed for a hassle-free 3D printing experience, Breakaway provides good adhesion to ABS, PLA, Nylon, CPE, or CPE+.  Although it is a support material, Breakaway is used with a AA 0.4 mm print core.
Reasons to choose Ultimaker Breakaway
● No sanding or waiting for your support material to dissolve. Simply print and break it away
● Ensures a smooth surface finish on your model
● Great results when combined with ABS, PLA, Nylon, CPE, or CPE+
● Long shelf life and less moisture sensitive compared to water-soluble support material, such as PVA
● Ideal for use with build materials that are sensitive to water