Ultimaker's most advanced 3D printer yet
The Ultimaker S5 is a powerful, reliable, and versatile 3D printer that delivers industrial-class results.
Building on the capabilities and success of the Ultimaker 3, the Ultimaker S5 adds enhanced performance with a larger build volume, effortless operation, and unparalleled reliability.
Ultimaker Essentials subscription plan included with every new Ultimaker 3D Printer! Includes software tools for better control, security and stability plus additional software support resources.
New features in the S5 include:
Larger build volume: 330 x 240 x 300 mm (13 x 9.5 x 11.8 inches)
Glass doors in front included, integrated
Full LED touch screen
Filament flow sensor with hardened components suitable for more abrasive filaments
Multiple build plates included, glass and aluminum
Adaptive, enhanced bed leveling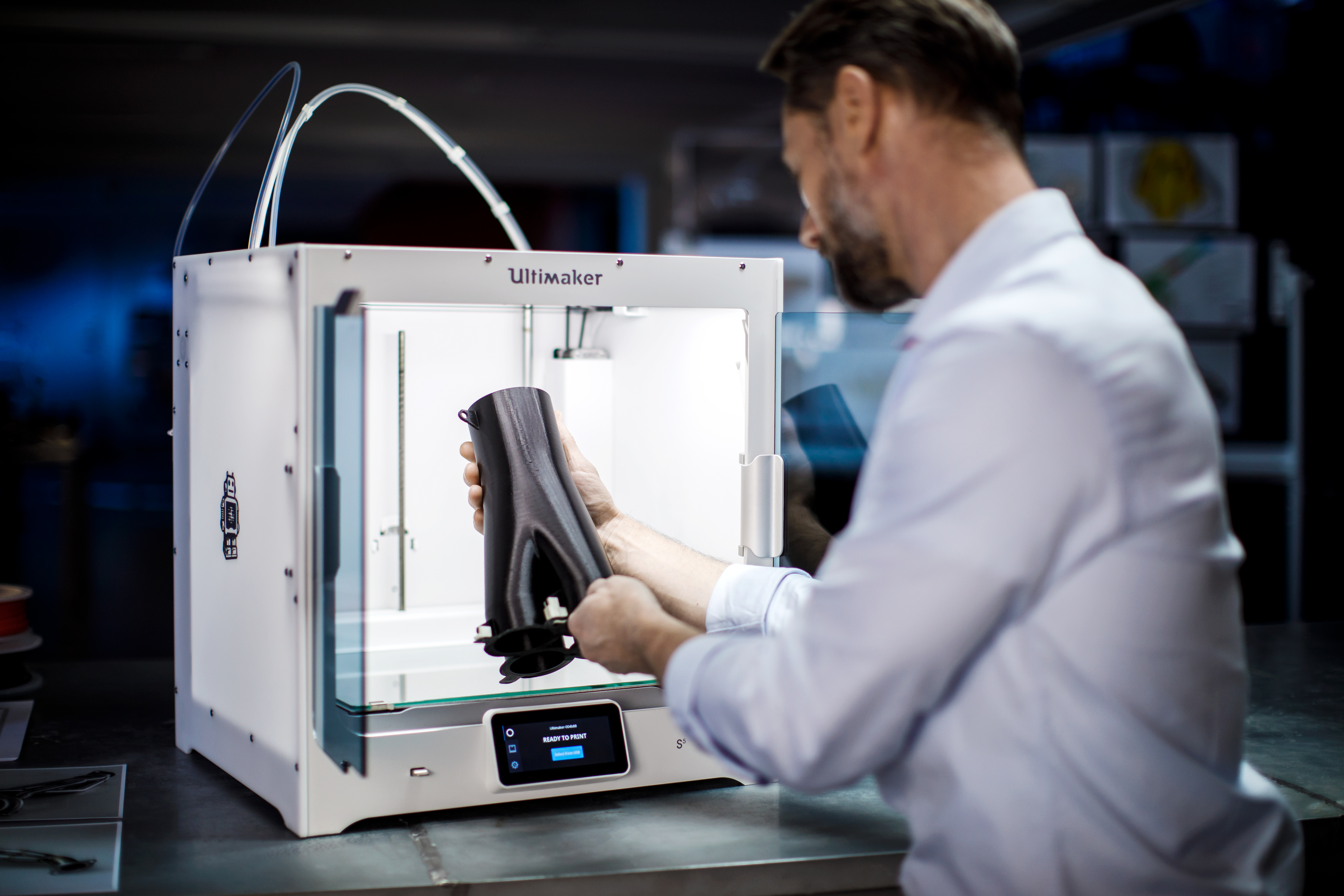 Discover the easy-to-use desktop 3D printer with a large build volume that delivers accurate, industrial-grade parts, time and again. With simple setup, high uptime, and reliable dual extrusion, Ultimaker S5 is the complete professional 3D printing solution.
Reliability at scale
The Ultimaker S5 has a large build volume of 330 x 240 x 300 mm. Print at large scale, or fit multiple parts on a build plate. Active bed leveling ensures a perfect first layer, a closed front controls airflow, and a filament flow sensor will pause your print and notify you if you run out of material. And in combination with Cura Connect, group multiple Ultimaker S5 and Ultimaker 3 printers together to maximize production efficiency.
Reliable adhesion, from first layer to finished part
A perfect first layer is crucial to every 3D print. To ensure that this happens every time, we have overhauled our active leveling technology. The Ultimaker S5 probes the build plate in a greater number of locations, creating a precisely detailed heightmap of the build surface. Using this data, it compensates for any surface deviations in real time, giving you a perfect, ultra-flat first layer, with secure adhesion that lasts the entire print. There's no need for constant monitoring – just start a print and leave the Ultimaker S5 to do its job.
Fast setup, high uptime
Swappable print cores enable effortless, tool-free maintenance and maximum printer uptime. Achieve different print characteristics using different nozzle sizes with two available print core slots in the print head, ranging from 0.8 mm for rapid prints, to 0.25 mm for ultra-fine detail.  Print with different colors for aesthetic impact, or use water-soluble PVA or Breakaway support for full geometric freedom, easy post-processing, and a high-quality surface finish so parts look polished and professional.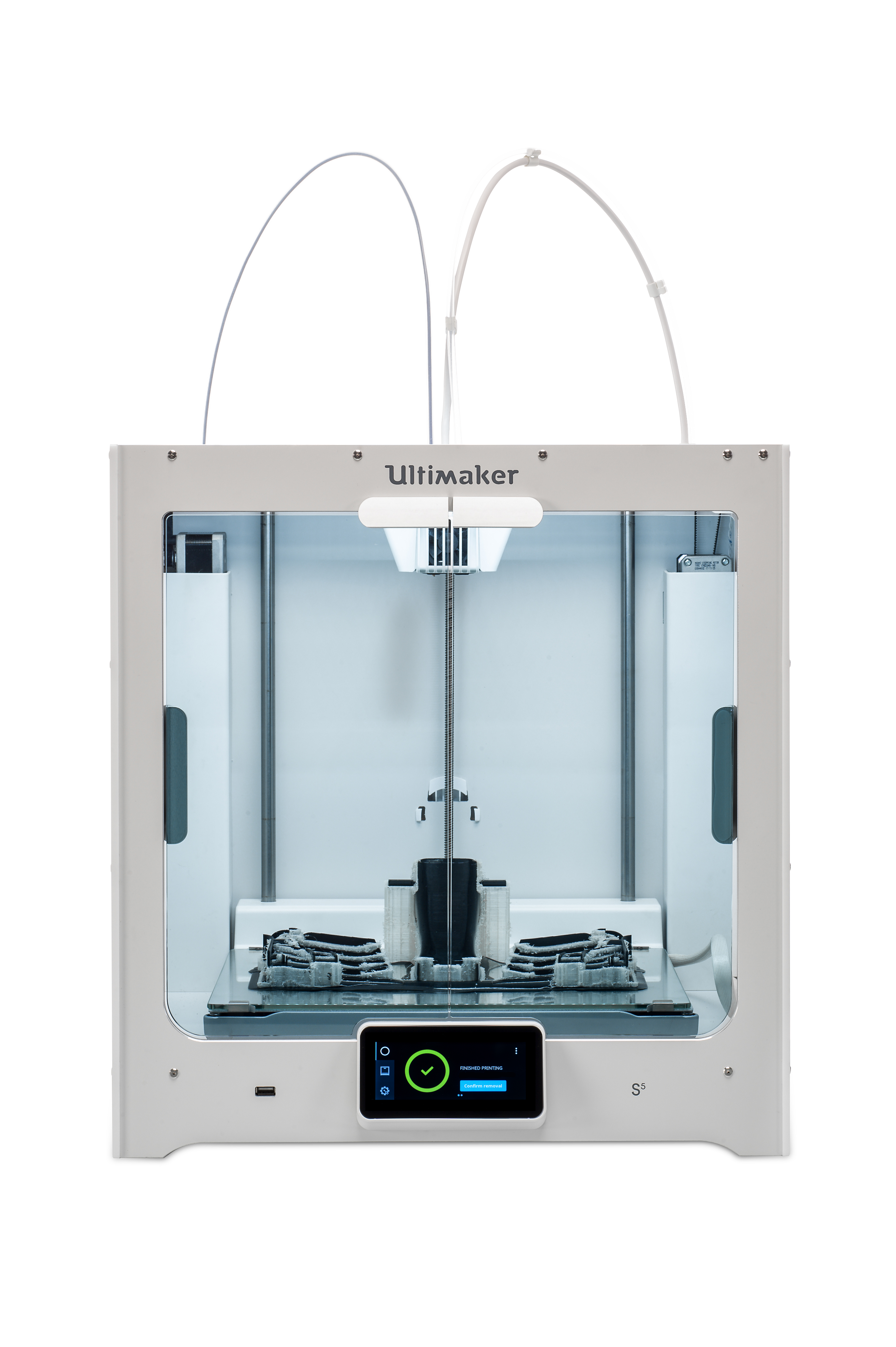 Easy touch control
A 4.7-inch (11.9 cm) touch display makes operating the 3D printer effortless, displaying visual guides to explain configuration changes and maintenance, plus a visual preview of your print.
Designed to connect
The Ultimaker S5 auto-detects material and print core configuration, while over-the-air firmware upgrades make adding the latest features simple. Print over Wi-Fi, Ethernet, or from a USB stick, and monitor progress via the built-in camera.
Ultimaker S5
(2) Ultimaker Print Cores AA 0.4
Ultimaker Print Core BB 0.4
Tough PLA, 750g
PVA, 750g
Glass build plate
Hex screwdriver 2mm
Glue stick
NFC enabled reel holder assembly
NFC spool holder
(3) Nozzle covers
Ethernet Cable
USB Stick
Machine Oil
Magnalube Reclosable
Calibration card
XY calibration sheet – glass build plate
Power cable
NEW! S5 Pro Bundle
Includes the S5 3D Printer, Air Manager and Material Handling Station!