TrueVIS VG2 Series Wide-Format Printer/Cutter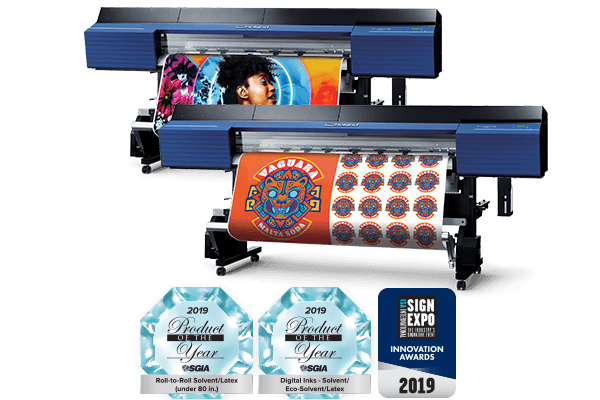 Add More Detail, Color and Excitement to Your Applications! New generation award-winning TrueVIS VG2 series large format printer/cutters offer you comprehensive color choices, improved machine efficiency, and increased print and cut accuracy. Crank out thousands of posters, produce prints on specialty materials, or create vehicle graphics with exact brand colors. Available in 64″ and 54″, they feature new TR2 inks for greater color output, smart new print/cut features with automated pinch rollers, and 3M and Avery Dennison certifications. 
Excellent choice for graphic design/communication course offerings and design labs that require a professional touch.
 VG2-540 54″…


$17,995*


VG2-640 64″…

$21,995*

*Includes FREE PBL Learning (a $1,195 value!) until 9/30/2021!
School P.O.s Welcome!
Email sales@TECedu.com for a quotation!
Designed for both novice and advanced users, our TrueVIS VG printer/cutters are the most versatile tools ever for creating just about any sign imaginable.
Die cut labels & decals • Banners • Signs • Vehicle Wraps • Posters & Backlit Displays • Wall Graphics & Murals • Fine Art & Photos • Color Print & Cut Heat Transfers
b
Brilliant New VG2 Features
True Rich Color and TR2 inks offer a wider color gamut and allow you to generate a whole new level of color vibrancy in your prints.

Automatic Pinch Rollers raise during cut operation to avoid contact with printed graphics and improve cut accuracy with adjustable pressure settings.

New Media Clamps with integrated grooves don't need to be removed at any time— providing a more efficient operation.

New Cutting Features in VersaWorks 6 include Crop Mark by Row functions to improve accuracy on long print runs and PerfCut Mode that allows you to print, cut, and die-cut in a few easy clicks.

Nozzle Mask Function allows you to minimize printer downtime by turning off a specific nozzle band if a nozzle on the printhead is clogged and misfiring.

LED Print and Maintenance Lights make machine procedures clear and comfortable with luminous, natural lights during print operation, and bright, powerful lights when working under your machine hood.
Control Your Color or Let it Loose with New TR2 Ink
Elevate all your print output and improve color reproduction of specific colors with TR2 inks in CMYK configuration that produce graphics with exceptional realism and color intensity.
With True Rich Color you have access to amazing new color profiles to help you generate a whole new level of color vibrancy in your prints
True Rich Color and TR2 inks combine neutral grays, smooth gradations, and natural skin tones to expand your color gamut
TR2 ink is GREENGUARD Gold certified for low-emission printing
Exceptionally scratch-resistant, TR2 ink is durable up to three-years outdoors without lamination
Productivity Features
Improved workflow The VG2 is turning up machine efficiency with faster job setup time and sequence, reduced ink maintenance consumption, and other productivity features.
New Media Take-Up An included TUC4 take up system offers two modes to expertly handle everything from thin films to heavy canvas materials and providing take-up stability for a smooth post process.
Nozzle Mask Function If a nozzle on the printhead is clogged and misfiring, you can minimize printer downtime with the ability to turn off a specific nozzle band to allow continued production.
Roland DG Mobile Panel Bluetooth enabled printer management allows you to test print, clean and troubleshoot your VG2 from your tablet or smartphone.
Includes VersaWorks 6 RIP Software!
Effortlessly manage your print output with the latest edition of the world's most popular RIP software. In addition to all the cropping, tiling, nesting, color libraries and other popular features, it includes improved processing speed and file handling, five print queues and hot folders with unlimited queue settings. It also offers new color matching features for printing, scanning and transferring color values to matching Roland devices.
For VG2 Series specifications and more details, download the brochure here.
Watch the Video!