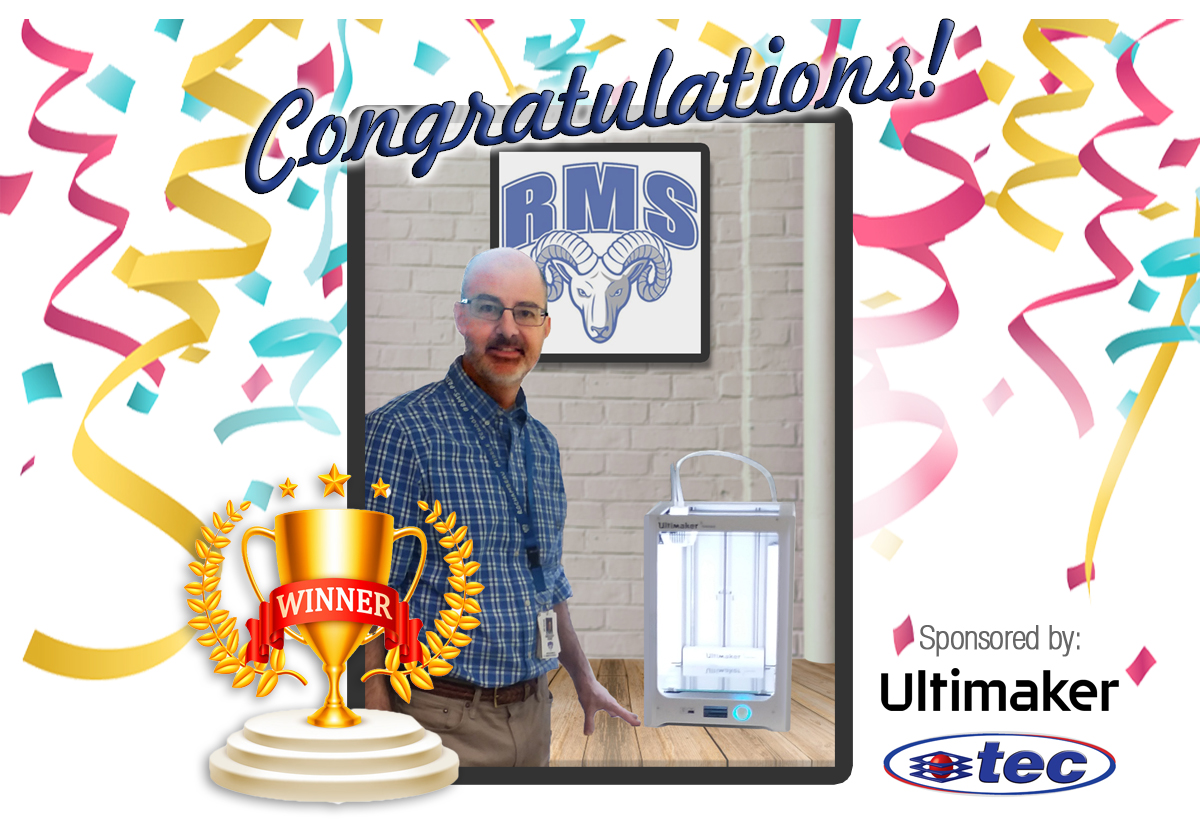 The winner of our 2019 TEC/Ultimaker Fall Conference
3D Printer Giveaway is:
Greg Kunz, Tech Ed Teacher at
Rochambeau MS, Southbury, CT!
Each fall and spring, TEC travels to several Academic Conferences representing Ultimaker 3D Printers and other STEM equipment to schools in New England. Educators at the recent fall conferences had the opportunity to register their school to win an Ultimaker 3 Extended 3D Printer (valued at $4,295!) by visiting TEC's booth and entering their name into the raffle. Over 300 educators from seven states entered for a chance to win!
Greg Kunz is excited to be adding a new Ultimaker 3 Extended to his Tech Ed Program! Mr. Kunz teaches Technology Education to Grades 6, 7 and 8 at Rochambeau MS. Mr. Kunz entered the raffle for his school at the Connecticut Technology and Engineering Education Association (CTEEA) Fall Conference. His students have been exploring 3D printing and he is looking forward to expanding his program with additional 3D printers.
"I'm very excited (and so are my students)!"
– Mr.Kunz
The Ultimaker 3 Extended 3D Printer is an award-winning dual extrusion industrial 3D printer. Used by companies worldwide including Siemens, L'Oréal, and Volkswagen, Ultimaker 3D printers are chosen by secondary and post-secondary schools because of their ease of use, open source technology, and reliability.
Mr. Kunz's program explores the method of problem-solving as practiced by engineering professionals. This method requires students to outline a problem or challenge and formulate a strategy to solve it through a process of writing, sketching, design, and group cooperation. His students also learn about developing technologies such as robotics, computer graphic design, 3D printing and 3D computer modeling.
Click here to see a video he put together about his program!
This is the third year that TEC has collaborated with Ultimaker North America to offer a 3D printer raffle to schools in the region during the fall conference season. The 2018 Winner was James Genovese of Conard High School in Connecticut, and the 2017 Winner was Kate Owen of Thetford Academy in Vermont.
Thank you to the many schools who participated in this year's 2019 TEC/Ultimaker Fall Conference 3D Printer Giveaway!
► Interested in Ultimaker 3D Printers for your school? Contact us for EDU pricing or a quotation, we're happy to help!