•  Low-cost      • Compact & portable      • Built-in filtration
Ideal for schools, libraries and multi-unit installations! 

Only $599!

---
Overview
1-Year Manufacturer's Warranty Included
Free 800# Technical Support
Safety Features:

Fully Enclosed with Open Door Alert
Built-in HEPA Air Filtration

Layer Resolutions from .15 mm to .35 mm
Untethered Printing with WI-FI and USB Options; WI-FI support also enables user control of the 3D printer via the mobile App.
Color Touch Screen Control
Single Print Head with Quick Change Mechanism
Automatic Nozzle Height Detection, software assisted leveling
Heated Built Platform with Perforated Print Board or UP Flex Print Board
Prints using ABS, ABS+ and PLA materials
Aluminum Handle for Portability
Separate Spool Container with Build-in Toolbox
Technical Specifications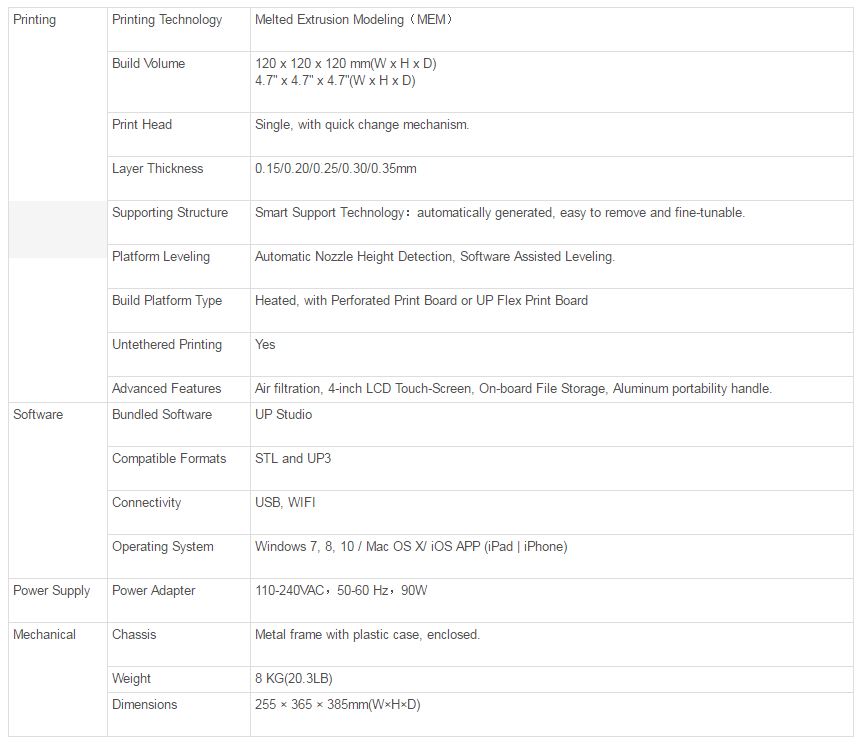 Order Yours!  School Purchase Orders Welcome!
Fax orders to 1-603-225-7766 or email sales@TECedu.com. Need a quote? No problem, email sales@TECedu.com for a customized academic quotation!
530-0001
New Up Mini 2 3D Printer Included Filament: • 500g spool of White ABS filament (1.75mm) • Sample filament for ABS, ABS+ and PLA (50g for each series) Included Spare Parts: • UP mini 2 extruder V1 • UP flex 120 print board (2) • Cell board for UP mini (2) Included Accessories: • Quick Start Guide • Tool Kit: Calibration card, Filament guide tube, USB cable, Spare Nozzle & Nozzle Wrench, Gloves, Scraper, Pliers, hex wrenches (2mm & 2.5mm) & spare screws
$599

Accessories

530-0050
HEPA Filter Replacement for Up Mini 2 and Up Box+ 3D Printers
$11
570-0070C
3D Printer Essentials Kit (FREE for schools and libraries!) – Learn more
$125
530-0037
Up Mini 2 Extruder V2
$165
530-0035
Up Flex 120 Print Board for Up Mini 2
$16
530-0053
Nozzle – 8mm V5 for Up Mini 2/Up Box+
$15
530-0054
Nozzle Heater for Up Mini 2/Up Box+
$90
530-0036
UP Flex 140*130*3 Print Board
$16
530-0038
Up Mini 2 Fila Station
$40
530-0042
Up Mini 2 Perforated Print Board
$17
570-0067
TEC "Store N' Save" Mylar Heavy Duty Waterproof Zip-lock Material Storage Bag with Desiccant Pouch – 3 pack – recommended!
$15
> Click here to order Up Fila Materials
Email sales@TECedu.com for a customized academic quotation!